Publicado por: Claudia Satorre
Publicado el March 24 2021
50 Lliures, new 100% xarel·lo wine
50 Lliures, the new five textures xarel·lo
This organic white wine is aged in amphora, demijohn, cement egg, stainless steel and barrels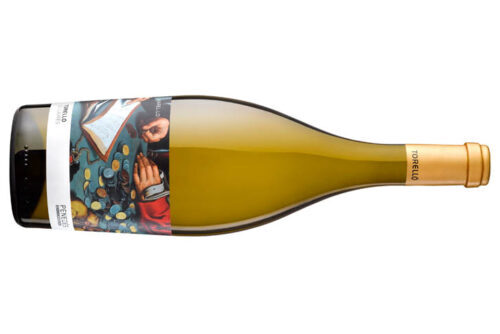 March 2021
The historic cellar presents a new organic D.O. Penedès white wine, made 100% from the xarel.lo variety, but with a great singularity: in its making this wine passes through 5 different recipients before being bottled. "The amphora, demijohn, cement egg, stainless steel and barrels of oak and acacia give the wine a whole range of aromatic and gustatory nuances which make it very special and with a vocation for maturing in the bottle", explains Paco de la Rosa Torelló, enologist and co-owner of the cellar.
The history behind the name
50 Barcelona pounds – 50 lliures -was the price that the first generation of the Torelló family paid, in the Middle Ages, for the masías (country houses), vines and woods of the Can Martí Estate, today home of the well-known cellar. The family has the old document, dated 17th June 1395, in which reference is made to when the Lord of Gelida (a town in the Alt Penedès region) established an emphyteusis – a cession – of the masía Mas de la Torrevella and its lands, in favour of the family ancestor by direct maternal line. The pound was the monetary accountancy unit that in the medieval era had no physical counterpart. It was equivalent to 20 salaries, and a salary corresponded to 12 'monies'. The 'monies' did exist and only in the lower Middle Ages coins were minted in Barcelona with the value of one salary. These are the so-called 'croats'.
Regarding the 2020 harvest
According to J.A. Montilla, enologist at Torelló, "in 2020 we have had a harvest with lower production, and we had to give a lot of attention to all of the vegetative cycle and the harvest, but we obtained grapes with great quality. Harvesting by hand, we made a first selection of the fruits on the vine and, also, afterwards we made a second screening on the selection table
Tasting note
A clear wine with a brilliant yellow colour with shades of new gold and green reflections.
In the nose it is intense and complex. Notes appear of mature stone fruits and florals, like fennel and camomile, which are characteristic of the variety. Also, due to the passing of the wine through different recipients with different textures, there are earthy notes, of toasted aromas and vanillas.
In the mouth it is velvety, silky with good acidity that gives it freshness. The influence of the different recipients can be noted, the freshness of the stainless steel, the minerality of the cement egg, the creamy notes of the barrel, the earthiness of the amphora and the reduction of the demijohn. The notes of mature fruits like apricot are also confirmed in the mouth. It's a very Mediterranean wine.
Pairing
This white wine is ideal for accompanying rices, shellfish and grilled, baked or smoked fish.
Small production of 5,900 75 cl bottles.