Publicado por: Claudia Satorre
Publicado el June 29 2020
Corpinnat certification
Bureau Veritas certification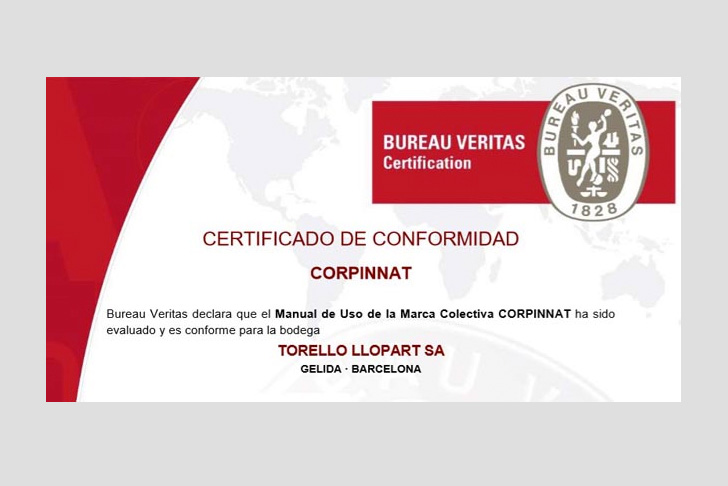 April 2020
Once again Torelló we get the certification of Bureau Veritas, for our compliance as a winery with the commitments and strict regulations of Corpinnat.
Since January 2019 Torelló has assumed its membership in this collective brand of quality sparkling wines of the Penedès and since then we continue to work to maintain and improve day by day the quality and image of our sparkling wines and those of our colleagues. of Corpinnat. Because we feel that this is not individual work, but teamwork.
These are times when maintaining quality standards is difficult, but equally important. With Corpinnat the foundations were laid for what is today the strictest regulation in the world, as far as sparkling wine is concerned. The inspection and evaluation of the renowned Bureau Veritas, certifies today the commitment of our winery with good practices and good management:
Our vineyards are organic (registered with the CCPAE). We carry out the harvest manually. Own vineyards – in our Can Martí estate, mostly of the traditional varieties of the Penedès – and located within the delimited area of ​​Corpinnat – in Gelida, Alt Penedès-. All sparkling wine made in our winery, from start to finish: vinification, processing, bottling and labeling. Among others.
In Torelló we committed ourselves to a landscape, some lands, a history, some varieties and some ways of doing things. And today this certificate proves that we continue to live up to our commitment.