Publicado por: Claudia Satorre
Publicado el March 10 2020
Our wines in the Parker guide
Torelló wines, exceptional according to Parker
The prestigious Parker wine guide has awarded with points to our wines.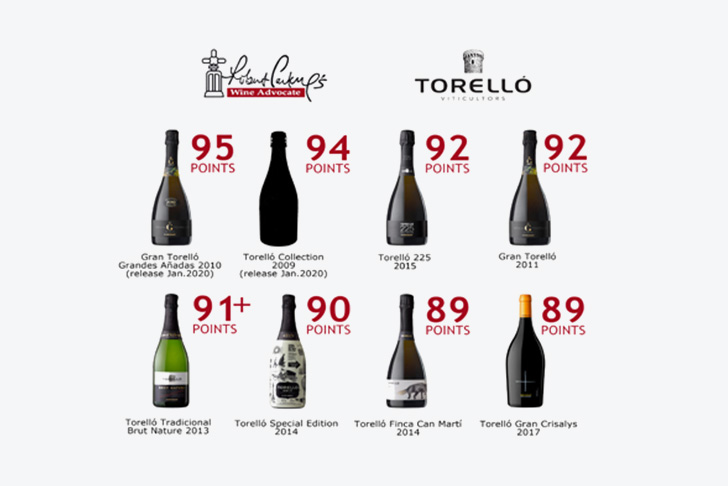 September 2019
A few days ago the scores of the famous Parker wine guide were published. Considered one of the most influential when it comes to wines, this publication awards its points based on the quality of the wine and how it reflects its area of ​​origin.
Thus, the influential wine critic Robert Parker has developed a scale of scores where, from 80 points, wines are ranked as follows: 80-89 Between better than average and very good; 90-95 Exceptional; 96-100 Extraordinary. Well, in addition to feeling very grateful at the beginning because our wines have been tasted by Luis Gutiérrez -responsible for The Wine Advocate (Robert Parker) for Spain-, we have achieved scores that would make us happy to any winery.
Six of our sparkling wines have been classified as "exceptional": 95 points for the Gran Torelló Grans Vintagees 2010 (it will be released in January next year), 94 points for the Torelló Collection 2009 (also available from next January ), 92 points for Torelló 225 and Gran Torelló, 91+ for Traditional Brut Nature and 90 points for Torelló Special Edition. In addition, our Corpinnat Finca Can Martí and our white wine with Gran Crisalys barrel, have received another outstanding 89 points.
Of the Gran Torelló Grans Vintagees 2010 Gutiérrez emphasizes that it is a sparkling "Super fresh, with fine bubbles integrated, it is very tasty, with an almost salty, umami finish." For his part, in the Torelló Collection 2009, the wine critic describes it as a sparkling "complex and subtle, which gives off smoky and brioche notes, with a creamy texture and great finesse […] that has an outstanding" complexity and nuances ".
We can't be happier with the scores we get, and that makes us keep working to keep beating ourselves.